For updated information about the Cotopaxi, please follow the Geophysics Institute from the National Polytechnic School. They monitor the Volcano and regularly update their Twitter account.
Cotopaxi is one of the highest active volcanoes in the world. Rises majestically above the Central Andean Cordilleras, The name comes from ancient languages that mean "The Neck of the Moon" with an almost perfect cone shape. Reaching the top of this volcano is a must for every mountaineer. Technically not a difficult mountain, you don't need much experience, but a good physical condition and proper acclimatization will help for a successful climb.
From the summit, you can enjoy a beautiful view of the Andes landscape, with a clear view, you can see all of the snow-capped mountains of Ecuador. Glancing into the crater with a diameter of 800 m, from which sulfur steam is still flowing.
To Climb the Cotopaxi, you need a certified ASEGUIM guide that can take a maximum of 2 climbers per guide for safety reasons and a special permit given by the Cotopaxi National Park.
DURATION

2 Days – 1 Night ( 1 Day extra of Acclimatization is possible)

LEVEL OF ACTIVITY

Prepared We recommend having good previous acclimatization for this climb.

GEAR

Clothes for moderate Cold weather, Comfortable athletic clothing for trekking, hiking boots, hat, jacket, sunscreen,  sunglasses,
COST
$ 350 USD per person – 2 climbers

$ 580 USD If climbing alone

INCLUDED

Local certified English/Spanish-speaking ASEGUIM mountain guide
Accommodation at the Refuge.
Private transportation in guide's car
Meals mentioned in the program itinerary
Transportation, Accommodations, meals for guide
Group gear (Ropes

NOT INCLUDED

Meals not mentioned in the itinerary, personal expenses.
Insurance,
Airfare, accommodation in Quito or another city
Soft and alcoholic beverages
Additional services not mentioned above
Tips and gratuities
Personal Gear ( Crampons, Helmet, Harness, Carabins, Piolet, Sleeping bag).
Glacier, climbing, and extra trekking gear (we can assist with the rental)

EQUIPMENT FOR RENT

Polar jacket, Polar pants, Harness, Carabiner, Boots, Ice ax, Crampons, Mitons, Gaiter, Headlamp, Sunglasses, Helmet, Facemask, Sleeping Bag.
Important facts you should know about Climbing the Cotopaxi
Here are some facts you should know to help you prepare before visiting the Cotopaxi volcano and the refuge:
Entrance: 

Visitors who wish to carry out high mountain activities must present the Biodiversity Information System sheet at the checkpoint, accompanied by the guide designated for the ascent with the updated license and specialized equipment.

Entry Times:

 Admission to the Cotopaxi National Park (through "control Norte" and "control Caspi") is open to national and international tourists from 08:00 to 15:00 and return at 17:00

Parking areas:

 There is a parking area at 4600 m. You must walk around 30-45 minutes to get to the refuge.

Refuge Altitude:

 The refuge "José Ribas" is located on the north face of the Cotopaxi Volcano at 4800 meters (15750 feet) altitude.

What would you find at the refuge? The refuge has two kitchen rooms

, four stoves, plastic dishes, running water (if it is not frozen), bathrooms, electricity from 6 pm to 8 pm, beds with mattresses, and lockers.

Staying the night at the refuge:

 If you plan to stay there, you should bring your sleeping bag, warm clothes, food, pure water, a headlamp, and toilet paper. If you want, you can bring your own lock.

Shopping (Supplies): 

There is a small shop at the Jose Rivas Hut where you can buy snacks, hot chocolate, or tea, and a restaurant offering climbers dinner and breakfast.
Additional information
| | |
| --- | --- |
| 3 days | It's possible to add one extra day for acclimatization |
Day 1: Climbing Mountain Refuge 4800m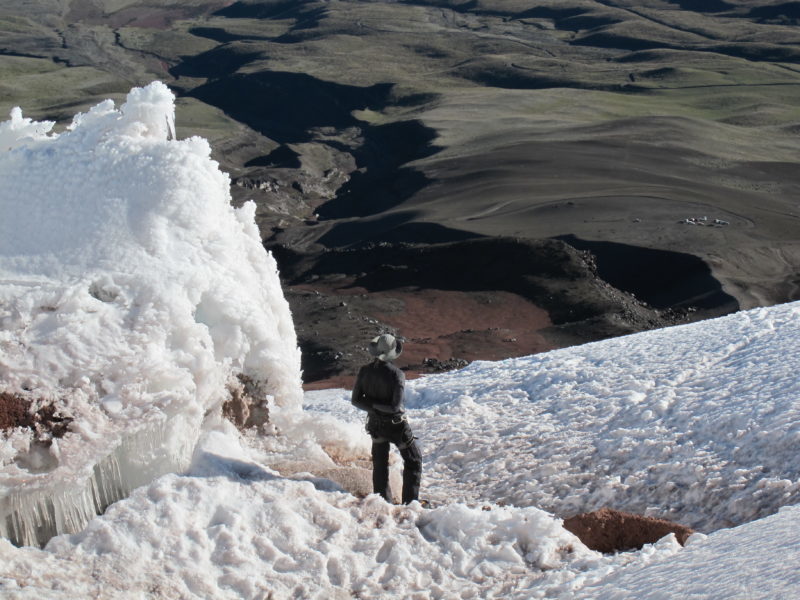 Pick you up at your hotel in Quito. then head to the direction of Cotopaxi National Park enjoy the scenic road to Cotopaxi refuge. You often see wild animals such as horses, bulls, birds, rabbits, and foxes. We drive almost 1h from 2900m to 4500m, where we leave our car. The last 300 mts to the hut we make on foot. Before sunset, we have dinner and try to sleep a few hours, at midnight our adventure will start. The unique and compelling Cotopaxi 5897m is waiting for us.
Accommodation: RefugeJose Ribas
Meals: box lunch, dinner
Day 2: Climbing Cotopaxi 5897m and back to Quito
The big day of the trip begins shortly after midnight at 4800m. 6-7 hours will be needed to get to the main summit of the World famous Cotopaxi (5897m). A complete alpine glacier hike, surrounded by beautiful mountains and the lights of the capital in the background. The goal of ascension is to reach the summit when the sun rises to enjoy the magnificent colors and views. We need 2-3 hours for the descent. We return to your hotel in Quito.
Meals: light breakfast pre-ascent.
Gear needed to climb the Cotopaxi:
It's important to dress appropriately for the conditions. The weather on the mountain can be unpredictable, so it's important to be prepared for all types of weather. Here are some recommendations for what to wear:
– Base layer: Start with a moisture-wicking base layer to keep you dry and comfortable. This can be a long-sleeved shirt and leggings made of synthetic materials.
– Insulating layer: On top of your base layer, wear a warm insulating layer such as a fleece jacket or down jacket.
– Outer layer: Your outer layer should be a waterproof and windproof jacket and pants to protect you from the elements.
– Climbing gear: You'll also need climbing gear such as crampons, ice axe, helmet, and harness.
– Accessories: Don't forget to bring a warm hat, gloves, sunglasses, and sunscreen to protect your skin from the sun's rays.
Dressing in layers is important to adjust your clothing as needed throughout the climb.
Best Season to Climb the Cotopaxi
There are two climbing seasons in Ecuador: June to August, when we have summer in the highlands, and November to February, which is summer in the Jungle side. November to February is considered to be the best time for climbing. Cotopaxi can be climbed year-round because it creates its own microclimate and has the clearest days of all the Ecuadorian mountains.
Have a question? Get in Touch
Plan your trip with us and help us to make the best offer for your trip.
Please fill the form or write to info@barefootexpeditions.com
[contact-form-7 id="162″ title="Contact Us"]
Please let us know if you need gear for rent, there is plenty of options to rent gear if you don't want to bring your own.