Group and Individual Queries
Our Barefoot Pathfinders will find the best boat and itinerary to fit your schedule.
Online Free Reservations
Book online free of charge, and we can hold the spaces for a short time. To confirm your cruise, pay a deposit of 20%
Unique Lifetime Journey
Get aboard a cruise and prepare for close wildlife encounters with the strangest life on earth
Find the Perfect Galapagos Cruise
Aboard a ship is the best way to explore the Galapagos Islands, take advantage of time and reach the most remote areas in a unique life-time journey. We are proud to work with most of the best operators with fabulous itineraries, from budget to luxury boats. We can organize your trip the way you want without any additional cost.
Yachts, Catamarans, Sail Boats, Itineraries from 4 to 15 days tour, Budget, Mid-Range, First Class & Luxury Vessels:
Galapagos National Park & Marine Reserve Visitor Sites
Ecuador & Galapagos Cruise Extensions

Safe Travels: Global Protocols & Stamp for the New Normal
  Some of the Companies we work with have taken this certification that is working to achieve effective recovery protocols by developing meaningful action plans that optimize recovery efforts.
  Part of the protocols includes the insights & toolkits for interaction & implementation to ensure that people are and feel safe however, our partners can not guarantee 100% safety. Ultimately, we envision a future of travel that is safe, secure, seamless, and provides an authentic and meaningful experience to the traveler across the journey; one which supports the livelihoods of millions and contributes to sustainable economic growth.
   The protocols align common standards to ensure the safety of its workforce and travelers as the sector shifts to a new normal.
Galapagos Islands Last Minute Cruises
→ The last-minute cruises are deals that the ships offer when they haven't filled all the cabins for a specific date and itinerary. Usually, the deals are up to 50% discount and are available to buy about five weeks before the departure.
→ We receive these deals every month or on-line we can instantly check the availability, as travel agents we work very closely with our partners.
→ Keep in mind that the offers are limited, and when you find your perfect choice, you need to be ready to book and make the 100% payment instantly.
→ The operators we work with have many years of experience in tourism with excellent reviews and with guaranteed departures.
→ Galapagos, last-minute deals, are available mostly in the low season with many options to choose from if you are a couple or a single passenger.
→ For groups of people, it is challenging to find availability.
→ You also need to be flexible with the dates of travel and be ready to travel within a month.
→ The high season is in summer June, July, August, and Christmas in December, the rest of the year you could find a great deal for your trip.
24/7 Customer Support
Customize any part of your Galapagos dream vacation. Our team of experienced tour specialists have traveled to most of the destinations and have a first-hand travel experience to share. Call us now to have all of your questions answered!
+1(650)419-7324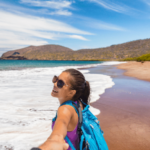 Galapagos Early Bird Offer
→ The Early Bird deal applies when you make a reservation for next year and could be in high season as well; this is a good option for big groups or charters.
→ When you book an early deal, you can choose the best cabins in the cruise, itinerary, and many options to choose from available.
→ You also have the chance to pay for the cruise during the year until your trip. With 20%, you can freeze the price for the tour.
GALAPAGOS ISLANDS TRAVEL INFORMATION
Electicity, Currency, Baggage Restrictions, Guidelines for eco-friendly packing, Travel light, Staying fresh and clean, Practice your "Eco-Logic"
GALAPAGOS ISLAND HOPPING TOURS
What to espect, accommodation, transportation, wildlife, value, cost and more…
View more
Galapagos Cruises Reviews
John Guetter
Did the western tour (the 8 day A trip) in late January 2020 and had an excellent time! The crew was professional and friendly, the boat was comfortable, our naturalist Walter was extremely knowledgeable, our group of travelers got along fabulously, and we saw all kinds of interesting and unique animals, on land and in the water. We had a relatively active tour, with hiking, snorkeling, and kayaking every day. Food was great, cabins were fine, weather was good. Everything was just great; probably the best tour I've ever been on!
Huge thanks to Diego Altamirano and Barefoot Expeditions for finding this tour and putting it all together for me. Highly recommended!