Travel Style:
Classic/Family
Service Level:
Budget to Luxury
Our program Individual & Flexible Galapagos Island hopping Tour is a private tour that combines conducted activities and daily excursions with a carefully planned schedule that will allow you to appreciate the nature, wildlife, and fun activities that this tour has to offer. You won't have to worry about anything, just follow the itinerary and we will take care of everything from maritime transportation, tours with local operators and your stopover at the hotel of your preference.
Highlights: Galapagos Highlands, Charles Darwin Foundation, La Grietas, Tortuga Bay Beach, Tintoreras & The Tunnels Snorkeling, Hike Sierra Negra Volcano
Activities: Snorkel, Barefoot Beach Walking, Kayak, Hike, Speedboat Ride
Santa Cruz
Isabela
ITINERARY ISLAND HOPPING
Day 1:
Flight to Baltra – GPS, Visit the Highlands (Rancho Primicias), Lava Tunnel, and Charles Darwin Research Station by the afternoon

Day 2:
Transfer to Isabela island in the morning, Tintoreras Kayak & Snorkel tour.
Day 3:
Los Tuneles tour: Cabo Rosa Tour – Breeding Center and Flamingo lake.
Day 4:
Visit the Sierra Negra Volcano. Speed Boat ride back to Santa Cruz
Day 5:
Puerto Ayora Bay, Laguna de las Ninfas and Las Grietas tour, Tortuga Bay beach.
Day 6:
Flight Back to Mainland from Seymour airport in Baltra GPS
Galapagos Island Hopping "West"

tour
Galapagos Island Hopping West 6D/5N
One free night in Quito or Guayaquil, discount for families and groups. Private  & Flexible departures with a minimum of 2 people.
Prices are per person based on double occupancy. Single traveler prices are available upon request. Internal flights are $300 per person. All prices and fares are quoted in U.S. dollars and subject to change.
ISLANDS 

Baltra (Airport-GPS), Santa Cruz & Isabela

WEAR

Clothes for moderate Cold and very warm, Comfortable athletic clothing, hiking boots, hat, jacket, sunscreen, swimsuit.

INCLUDED

Guided excursions on the Galapagos
Transfers from and to the airport in Quito
Transportation
Breakfast & Box lunch during the tours
6 nights of accommodation

NOT INCLUDED

Meals not mentioned in the itinerary, personal expenses
INGALA transit card (20 USD p. p.)
Entrance fee Galapagos National Park (100 USD for adults, 50 USD for children aged less than 12 years)
Flights to Galapagos, Flights can depart from Quito or Guayaquil (We can do the flights for you or advice which flights you need to buy)

SPECIES YOU CAN SEE ON THIS TOUR

Sea lions, frigate birds, blue-footed boobies, Nazca boobies, swallow-tailed gulls, tropicbirds, marine iguanas, sharks, rays, penguins, giant tortoises, turtles, Darwin finches, mockingbirds, lava lizards.
Galapagos Island Hopping Tours Information
Transportation: is made onboard of small speedboats between islands. Navigation times can be long (max 2h30) depending on the distance between the islands. We cannot control the ocean. If a swell comes in the ride can be bumpy, especially during the Garua season (see below). If you are usually subject to motion sickness, please bring parches or pills (you can also buy pills on the islands). The parches are really effective!
This is an active tour: you have to be fit (be used to hiking and swimming).
This is not a relaxed tour. Early wake-ups are usual here on the Galapagos, to make the most of the day, as days are quite short (sunset is at 6 PM).
Meals during the tour are not "a la carte", but menus. Please let us know any allergy/special diet you may have.
We do our best to vary meals, but remember we are on the islands and lots of products are imported or not available. Rice is a common plate here in Ecuador, chicken, and (extremely fresh!) fish as well. Your meal is always accompanied by a fresh fruit juice.
Accommodation is in nice hotels with private bathrooms, hot water, Wi-fi. They are usually family-run businesses. In Ecuador, we get hot water with the help of gas, so in case you don't have hot water in your shower, just inform the reception so that they can change the gas tank.
Almost all the accommodations where you are going to stay have WiFi, but be prepared that it is comparatively slow. But it will be enough to send some emails home.
Please take some good walking shoes with you for the hike to Sierra Negra on Isabela Island. The ground can be muddy and you will feel more comfortable if you have the right shoes.
Be sure to bring good sun protection as the sun on the Galapagos Islands can be very intense. Don't forget some insect repellent.
On the Galapagos islands, the tap water isn't drinking water. You can brush your teeth with the water, but you shouldn't drink it (just to let you know).
24/7 Customer Support
Customize any part of your Galapagos dream vacation. Our team of experienced tour specialists have travelled to most of the destinations and have first-hand travel experience to share. Call us now to have all of your tour-related questions answered!
+1(650)419-7324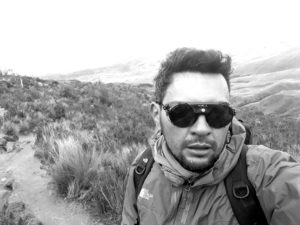 At Barefoot Expeditions, we believe in the power of responsible travel. We partner with local communities, support conservation initiatives, and prioritize eco-friendly practices to ensure that our trips benefit both the destinations and the people who call them home. Traveling in small groups fosters intimate encounters, genuine connections, and a deeper understanding of the world around us.
Day 1: Galapagos Baltra – Santa Cruz
Flight to Baltra, Highlands (Seymour Airport – GPS), Charles Darwin Foundation. Baltra is where the airport is located from there your guide is picking you up to go to Puerto Ayora, on the way you will do your first visit in the highlands of Santa Cruz Island where you visit a reserve of turtles in a wild state and pass through a lava tunnel, then check-in at the Hotel and visit the famous Charles Darwin Foundation, for dinner you can go on your own to walk by the port and walk through the many restaurants that offer a diverse menu.

Day-2: Isabela Island – Tintoreras
Transfer to Isabella island, Tintoreras Kayak & Snorkel tour, you need to be at the port at 6 am, arrive at Isabella at 9 to 9:30 then take Tintoreras kayak & Snorkel Tour After you arrive at Isabella a transport will take you to the Hotel where you can leave your stuff and from there to the tour Tintoreras kayak tour, Kayak paddle to the Tintoreras lava formations where we will see colonies of penguins and walk through lava platforms across where you can see many marine iguanas and sea lions' colonies, Galapagos sharks, sea turtles, sea lions and swimming marine iguanas. After snorkeling return to the hotel, lunch

Day 3: Los Tuneles Cabo Rosa, Puerto Villamil tour
Los Tuneles tour: Cabo Rosa Tour – Breeding Center and Flamingo lake. At 7:30 starts the day trip to Los Tuneles Cabo Rosa, in this trip, you visit an area with underwater lava tunnels where you can snorkel and see tipped sharks, sea turtles, and a big colony of Galapagos penguins besides a lot of sea life, back to Puerto Villamil in the afternoon visit The Flamingo lake and visit the turtles breeding center.
Day 4: Volcan Sierra Negra – Transfer to Santa Cruz
Visit the Sierra Negra Volcano. Boat ride back to Santa Cruz. Tour starts at 7:15 to Sierra Negra Volcano. It has the second largest crater in the world and is located in the most active volcanic areas of the Galapagos, the last activities were in July 2018.
And then take the boat ride back to Santa Cruz the boat departs at 2:30 PM, Check-in.
Day 5: Puerto Ayora, Las Grietas & Tortuga Bay
Puerto Ayora Bay, Laguna de las Ninfas and Las Grietas tour, Tortuga Bay beach. Today you can visit the two main highlights of Santa Cruz, in the morning you visit the surroundings on Puerto Ayora including snorkeling in las Grietas, and end up the day on the most beautiful beaches in Galapagos.
Day 6: Flight Back to Mainland
In the morning breakfast and transfer to the airport to take the flight back to the mainland, End of our services.
Galápagos recommended packing list:
Health and travel insurance policies

Photocopies of all documentation/tickets/passport

Ziploc bags or dry bags to keep what you need dry (books, maps, documents, film)

Pack towel (fast-drying, ultra-lite)

Toiletries** including strong sunscreen (high SPF, waterproof), biodegradable soap, shampoo, and toothpaste.

Feminine hygiene (tampons are especially difficult to find)

A full prescription of a doctor-prescribed antibiotic or any other medication you are currently taking.

Flashlight or headlamp

Rechargeable batteries

Camera and memory card (electronics are very expensive in Ecuador)

Underwater camera for the snorkeling

Swiss army knife or similar multi-tool with scissors/knife

Small binoculars

Travel alarm clock

Basic First Aid kit (for minor cuts, blisters, insect bites, muscle/headaches, diarrhea, and motion sickness, etc.)

Insect repellent (avoid repellents with strong concentrations of DEET)

A small backpack and money belt/pouch

Large garbage bags (to be used as a pack liner or cover)

Re-usable water bottle (such as NALGENE)

A travel lock

Sun hat

Light rain jacket or rain poncho

Lightweight, fast-drying clothing

Swimsuit

Sandals

Sneakers or hiking boots (for dry landings and rocky shores and the hiking to Sierra Negra)

Teva-style sandals (for wet landings and around town)

Sunglasses (with a strap is best)
Galapagos Island BBC Documentaries
CHECK AVAILABILITY / QUESTIONS?
Thank you for reaching out, please fill the form or write to info@barefootexpeditions.com
[contact-form-7 id="162″ title="Contact Us"]
---
* Are you ready to book your trip to Ecuador & The Galapagos Islands?
Please enter de information requested below and let us take you to the places we love!
---
BOOKING FORM
24/7 Customer Support

Please if you have any doubts please call immediately to:

Contact @Barefoot

At info@barefootexpeditions.com or send us a WhatsApp for inmediate responses